Sports - Football - PL - AFC 3-4 LFC
What an introduction to the new season that was! The first Super Sunday clash of the season at the Emirates saw seven goals, a penalty save, plenty of close calls and blunders, with a certain crazy German going mental and losing his glasses on the side-line, whilst the older Frenchman in the opposite dugout seemed less involved and left facing the boos and blushes.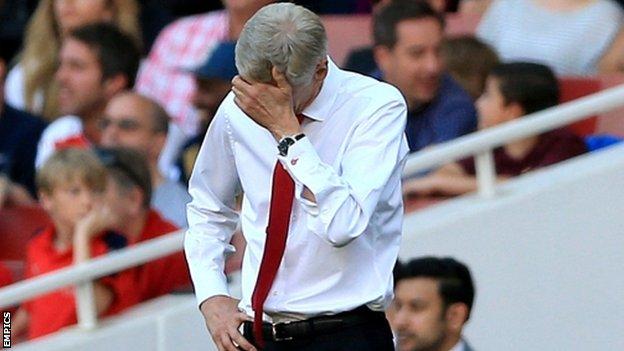 One distraught Frenchman
And it all started so well for the home side in
Ars
è
ne Wenger
's 50th clash against the red Merseyside club. The Gunners were in control for most of the first half against a shaky Liverpool who just did not seem to get into gear.
Left-back
Alberto Moreno
was the villain of the half, leaving plenty of gaps, looking flustered and all over the place. It seemed only a matter of time until the Spaniard would cost the Reds dearly.
29 minutes gone, he brought down
Theo Walcott
in the box conceding a clumsily cheep penalty, to luckily and amazingly see it saved by much-doubted and under-fire keeper
Simon Mignolet
.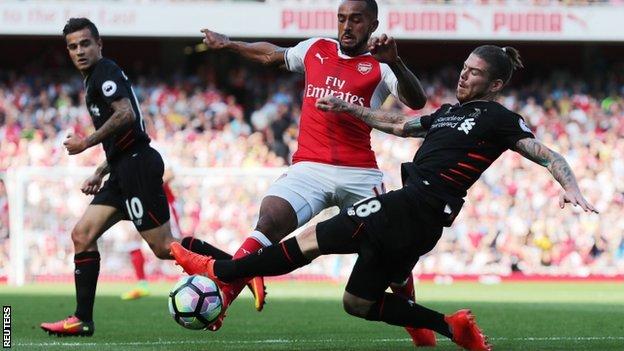 The Belgian stopper levelled Chelsea's
Dmitri Kharine
's record as the Premier League's best penalty saving goalkeeper, having saved 5 of 11 spot kicks = 45%.
The let off did not last long though, when 68 seconds later, Walcott was given plenty of space to send an easy tidy finish into the bottom corner, Moreno again at fault for not being in position, giving the home side a deserved lead.
However, all frustration was wiped away for the visitors just before the break, when
Philippe Coutinho
sent a deliciously sweet
free kick curling into the top left corner, giving keeper
Petr Cech
no chance, levelling the score and leaving Arsenal with frustrated faces during the interval.
Whatever
Jürgen Klopp
said during the break, it worked. The Reds, like a puzzle, seemed to have finally found and got the parts together, Coutinho to new signing
Georginio Wijnaldum
to
Adam Lallana
who netted a lovely goal to make it 1-2 in the 49th minute.
And seven minutes later Coutinho made it three, with a smacker guided into the far corner off a great drive in by
Nathaniel Clyne
, to give the visitors a two-goal cushion.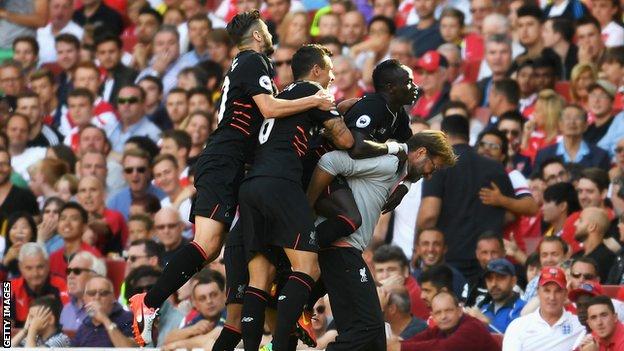 With just over an hour gone, Arsenal were ripped and shredded to bits and pieces by individual brilliance, new star £34m-signing
Sadio Mané
making it 1-4 with great pace and skill, a top quality goal.
It was the first time a team scored four league goals at the Emirates against Arsenal since Chelsea in May 2009.
But that was far from game over. Only 73 seconds later, sub
Alex Oxlade-Chamberlain
hit a goal back to make it 2-4 with a great individual skip and run, unsighted goalkeeper and deflection. Game on after a goal rush of 5 in 20 minutes.
And tension and action were raised again, when with 15 minutes to go,
Calum Chambers
headed in Oxlade-Chamberlain's free kick to reduce the deficit to one goal, 3-4, increasing Mignolet's nightmare of a headache.
The tense finish to the game saw pressure rising on both sides, for Arsenal to hit back, for Liverpool to hold on, the latter succeeding. The full time whistle blew, 3-4, the boos rang around the Emirates, the fans not happy with the old man, whilst Klopp and the men from the Kop could not have been more relieved, together and thriving on the outcome.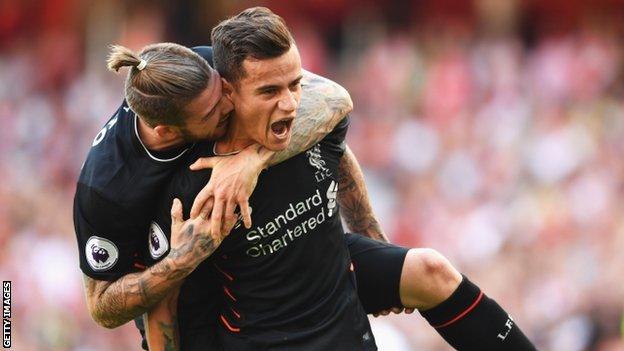 Man of the match: Philippe Coutinho
Arsenal Goals:
Walcott 31', Oxlade-Chamberlain 64' & Chambers 75'.
Liverpool Goals:
Coutinho 45'+1' & 56', Lallana 49' & Mane 63'.
Arsenal Team:
33 Cech (c); 18 Monreal, 21 Chambers, 16 Holding, 24 Bellerin; 34 Coquelin (booked 37'), 35 Elneny (29 Xhaka 67' booked 86'); 7 Sanchez, 17 Iwobi (booked 57') (15 Oxlade-Chamberlain 59'), 8 Ramsey (19 Cazorla 61'); 14 Walcott. 4-2-3-1
Subs not used:
3 Gibbs, 10 Wilshere, 13 Ospina & 32 Akpom.
Liverpool Team:
22 Mignolet; 18 Moreno (booked 29'), 6 Lovren (booked 41'), 17 Klavan, 2 Clyne; 5 Wijnaldum (35 Stewart 88'), 14 Henderson (c), 20 Lallana (booked 26') (27 Origi 76'); 10 Coutinho (23 Can 70'), 11 Firmino, 19 Mané. 4-3-3
Subs not used:
13 Manninger, 16 Grujic, 32 Matip & 66 Alex-Arnold.
Match Stats:
Arsenal-Liverpool
Possession:
50.7%-49.3%
Shots:
9-16
On target:
5-7
Blocked:
1-6
Corners:
5-4
Offsides:
4-3
Free kicks:
17-13
Bookings:
3-3
Referee:
Michael Oliver
Ground:
Emirates Stadium
Attendance:
60,033