Sports - Football - Euro 2012 - Picks of the Group Stage
Top game: Portugal's dramatic 3-2 win against Denmark thanks to Silvestre Varela's last-gasp winner kept their qualifying hopes alive whilst the Danes showed their always up for a fight and everything else but easy to beat. Another five-goal thriller saw Roy Hodgson's side beat Sweden 3-2 and end their hoodoo as England had never beaten the Scandinavians in a competitive match before. The win also showed that England are a scoring force even without their main striker Wayne Rooney thanks to Theo Walcott and Danny Welbeck. The opening game of the competition between Poland and Greece was the most competitive and aggressive with two goals and two red cards which saw the game end all level, 1-1 in goals and 10-10 in players.
Top team: The big favourites in form of defending champions Spain and runners up Germany have grinded out the required results so far, the latter being the only side with a 100% record of three out of three wins, but both have failed to impress me so far. They were not their usual self, the usual impressive force nobody can stop, hold back nor defend. I thought Sweden were great when they beat France 2-0 and in a confident and stylish fashion, eventhough they were already out of the competition at that point. At least they gave their fans something to cheer for in the end, something for their money and unconditional support. I think sometimes players and sides forget who they are playing for.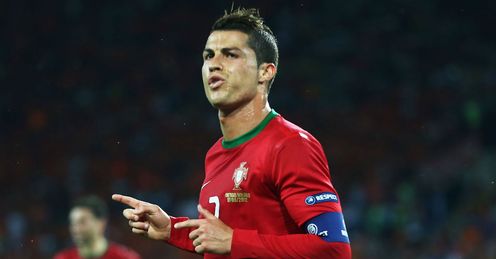 Top player: Two of the most expensive players in Europe took their time to get into gear. Real Madrid's Cristiano Ronaldo and Chelsea's Fernando Torres did not really feature much in the opening game for their sides with the prior's name not on the scoreboard till the last group game and the latter not even starting in the opening game but making up for it the next match with two out of four goals in the 4-0 thrashing of Giovanni Trapattoni's Ireland side. Top scorers so far with three goals each have been Germany's Mario Gomez, Croatia's Mario Mandzukic and Russia's Alan Dzagoev, top providers with three assists each have been England's Steven Gerrard, Russia's Andrei Arshavin and Spain's David Silva. The top goalkeeper with most saves has been Ireland's Shay Given with 17 saves.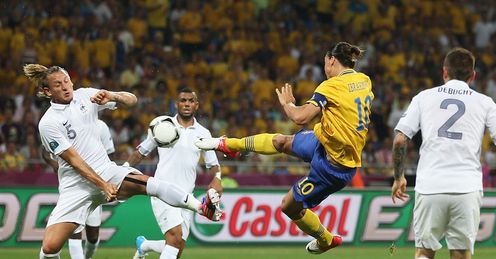 Top goal: Zlatan Ibrahimovic's opening goal against France was a stunning strike. I switched over from the England-Ukraine game to check the score and caught a very special goal, the Swedish striker producing an acrobatic right-foot volley which saw Sebastian Larsson's cross from the right bash into the bottom corner of the net, sweet mother of all goals so far in the competition. Welbeck's cheeky flick-in off sub Walcott's cross which saw England beat Sweden 3-2 made Hodgson's changes look genius and his side more than capable to win without their main striker Rooney. The United striker's winning goal against Ukraine was nothing more than a simple tap-in after Gerrard's teasing cross was spilled by goalkeeper Andriy Pyatov.
Top news: The quarter-finals are as follows: a) Czech Republic v Portugal, b) Germany v Greece, c) Spain v France, d) England v Italy; semi-finals: Winner A v Winner C, Winner B v Winner D; that means Portugal could face Spain and England could meet Germany in the semis if the results follow the match odds. Mouth-wateringly juicy, or what?! According to those odds, Germany are favourites to win the whole competition followed by Spain with hardly anything between the two - does that mean the final and competition is already decided? Or will there be more surprises and shocks? Can't wait to see the answer to that...
Flop game: The England-France game did not quite live up to its rivalry and competitive hype. There was no major controversy or many decision to make for the referee in a match with few incidences. After Joleon Lescott took the lead for England with a header off Gerrard's free kick on the half-hour mark, City team-mate Samir Nasri equalised for France only nine minutes later beating Joe Hart seeing his effort from the edge of the box go into the bottom corner. The rest of the game did not have much to write about, which was very disappointing, from a neutral point of view as well as for England as they left France in control and too comfortable. Russia's 4-1 thrashing of the Czech Republic was a joke! It just seemed surreal how the Czech's let themselves be pushed over so easily and blatantly!
Flop team: As mentioned above, the big favourites Germany and Spain have disappointed so far, not result-wise obviously but they haven't been exactly thrilling or nice to the eye. Ireland had a competition to forget although I felt sorry for Given who gave his all and created superb and stunning saves, all for nothing in the end. I think Netherlands were the biggest surprise ending up bottom of their group on zero points with a strong side and a lot of established. World Cup finalists and second in the world rankings, I am sure the Dutch will be the most disappointed fans and side of this competition, eventhough the hosts Poland and Ukraine obviously won't be happy either not being to take advantage of their home advantage, but I don't think anyone expected more from them.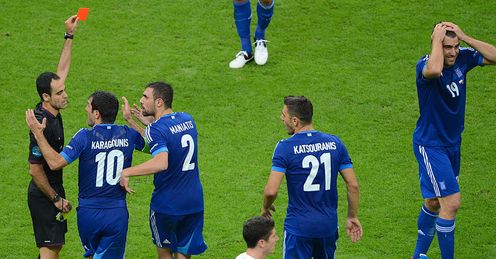 Flop player: Three players have seen red so far, Ireland's Keith Andrews who has also seen the most bookings with three, Greece's Sokratis Papastathopoulos and Poland goalkeeper Wojciech Szczesny, the latter two being sent off in the opening game of the competition. Czech's Milan Baros has committed most fouls with 14. And I still we are expecting and still waiting to see the best of Rooney, Ronaldo, Torres... The usual top picks who haven't really turned up so far. All the top players the Dutch have, from Robin van Persie and Wesley Sneijder to Arjen Robben and Mark van Bommel, amongst others, none of them really turned up nor impressed, showing that top names together doesn't mean top team unless they can gel and perform together, that's why it's called team work and a team sport.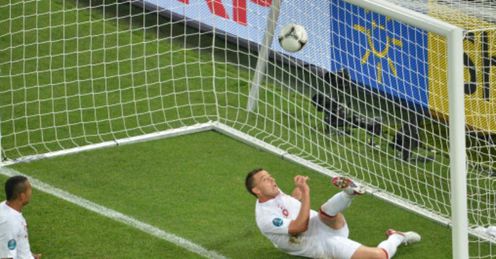 Flop goal: For the first time in my memory there has been a decision that has gone England's way! Usually it is always the Three Lions that concede a goal that never was or cry after a goal that was never given or see their hearts broken on the penalty spot. That may still happen, but as so far concerns when Ukraine saw Marko Devic's come off the cross bar and cleared by John Terry I think everyone knew and saw it was over line apart from the referee and his additional assistant who somehow did not see it standing on the line right next to the goal! It is a joke in the age of video replays, but thanks to the technology we have at least we saw that the ball was over the line but that Devic was offside in the buildup before. So, either way, justice has been done, no thanks to the Fifa clowns though!
Flop news: Fifa boss Sepp Blatter glaims goal-line technology is "no longer an alternative but a necessity" following Ukraine's complaint of being denied a goal against England. Really?! I think you're about a couple of decades behind the general public and nearly every other major sport!!! Clown!
My predictions - Actual results
Group A
Poland 2:1 Greece - 1:1
Russia 2:1 Czech Republic - 4:1
Greece 2:1 Czech Republic - 1:2
Poland 2:1 Russia - 1:1
Czech Republic 1:2 Poland - 1:0
Greece 1:4 Russia - 1:0
Group B
Netherlands 2:1 Denmark - 0:1
Germany 2:1 Portugal - 1:0
Denmark 1:1 Portugal - 2:3
Netherlands 1:2 Germany - 1:2
Portugal 1:1 Netherlands - 2:1
Denmark 1:1 Germany - 1:2
Group C
Spain 2:1 Italy - 1:1
Ireland 2:1 Croatia - 1:3
Italy 1:3 Croatia - 1:1
Spain 2:0 Ireland - 4:0
Croatia 2:2 Spain - 0:1
Italy 1:0 Ireland - 2:0
Group D
France 2:1 England - 1:1
Ukraine 2:1 Sweden - 2:1
Ukraine 0:1 France - 0:2
Sweden 0:1 England - 2:3
England 0:0 Ukraine - 1:0
Sweden 1:1 France - 2:0
Czech Rep 3-2-0-1-4-5-6
Greece 3-1-1-1-3-3-4
Germany 3-3-0-0-5-2-9
Portugal 3-2-0-1-5-4-6
Netherlands 3-0-0-3-2-5-0
Spain 3-2-1-0-6-1-7
Italy 3-1-2-0-4-2-5
England 3-2-1-0-5-3-7
France 3-1-1-1-3-3-4