Sports - Football - Carling Cup Final - Cardif 2:2 Liverpool AET
Liverpool beat Cardiff 3-2 on penalties after a dramatic 120 minutes ended all evens at 2-2. Steven Gerrard's cousin Anthony missed the decisive spot-kick for the Welsh side, handing the Reds their record eighth league cup, first domestic trophy since 2006 and first cup celebration at the new Wembley. And w
ith this Carling Cup, Liverpool manager Kenny Dalglish breaks another record, none other than Bill Shankly's (of seven trophies with the Reds).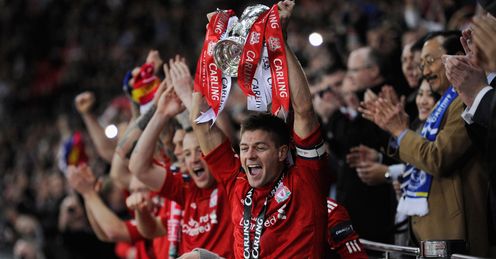 L
iverpool should have been walking home with the trophy with all the chances they had but wasted (22 in normal time + 5 in ET)! But Cardiff fought hard, held on and deserved the chance to grab a win from the penalty spot.
The underdogs were ahead at half time of regular play thanks to Joe Mason's fine finish. The striker had plenty of time and space in the box to send Kenny Miller's pass through Pepe Reina's legs and into the back of the net.
The goal came against the run of play as Liverpool dominated possession but wasted chance after chance, Andy Carrol and Luis Suarez the main offenders with the Uruguayan looking a shadow of his usual self.
Half an hour from regular play time, the Reds finally got something to cheer about when Martin Skrtel put the rebound of Suarez' header which came off the post through Tom Heaton's legs to make it 1:1.
Into extra time, Liverpool continued to dominate, but it took super-sub Dirk Kuyt to make the difference. Brought on in extra time, the Dutchman brought some freshness and speed to the Reds' game and his energy payed off when he netted a rebound, after a fine run. It looked like he was slipping, but he somehow got the ball in to put Liverpool aheade for the first time in the game on 108.
But Turner had a different idea and netted one of his own, right in front of the goal, Kuyt and Reina unable to stop him, to level the score at 2-2, 2 minutes from time.
His star role in the back line and on the scoreboard cam to no avail in the end thanks to three penalty misses by his side against the Reds' two misses, Reina not needing to make one save.
It was one of those dramas you will never forget, ending in Welsh tears and Scouser smiles. We will see if this is going to open the floodgates for a consistent run of trophies for Liverpool, who are still in the FA Cup and thanks to this cup win will be in Europe next season, no matter where the Reds will end in the league.
King Kenny has git his crown back, well, one little one of many more and bigger hopefully!
YNWA! For Jenny Kerwood (1989-2012)! xxx RIP xxx
1st & 2nd half stats
Cardiff-Liverpool
Attempts: 2-11 & 4-11
On target: 1-3 & 1-5
Offsides: 1-0 & 0-3
Corners: 0-4 & 0-10
Free kicks: 6-4 & 7-4
Possession: 34%-66% (17.min), 29%-71% (HT),
29.7%-70.3% (1st half), 36.8%-63.2% (2nd half)
Action Areas: Cardiff 18%-63%-19% Liverpool (HT)
ET 1st & 2nd half stats:
Cardiff-Liverpool
Attempts: 1-3 & 4-1
On target: 0-1 & 3-1
Offsides: 0-1 & 0-1
Corners: 0-3 & 2-1
Free kicks: 1-1 & 0-0
Sky Stats:
Cardiff-Liverpool
Passing Success: 66.8%-84.4%
Tackles/Success: 26/80.8%-12/58.3%
Territorial Advantage: 50.2%-49.8%
Possession: 35%-65%
Penalty Shoot-Out:
Liverpool won the toss and chose to go first, at the red end of Wembley.
Liverpool: S Gerrard x, Adam x, Kuyt 1, Downing 1, Johnson 1 = 3 penalties scored, 2 missed.
Cardiff: Miller x, Cowie 1, Gestede x, Whittingham 1, A Gerrard x = 2 penalties scored, 3 missed.
Cardiff: Heaton; McNaughton (Blake 106), Hudson (A Gerrard 99), Turner (booked 98, scored 118), Taylor; Mason (scored 19, Kiss ET, booked 119), Whittingham, Gunnarson, Cowie; Miller, Gestede. 4-4-2
Subs not used: Marshall, Earnshaw, Conway, Naylor.
Liverpool: Reina; Johnson, Skrtel (scored 60), Agger (Carragher 86), Enrique; Henderson (booked 52, Bellamy 58), S Gerrard, Adam, Downing; Suarez, Carroll (Kuyt 103, scored 108). 4-4-2
Subs not used: Doni, Spearing, Kelly, Maxi.
Man of the match: Ben Turner
Referee: Mark Clattenburg (Tyne & Wear)
Assistant Referees: Simon Beck and Mick McDonough
Fourth official: Anthony Taylor