Sports - Football - Europa League - Bordeaux 1-1 Liverpool
A relatively young Liverpool side started their Europa League campaign with a 1-1 draw, being denied their first win in four games by Bordeaux substitute Jussie in the last 10 minutes, earning his side a point in Group B.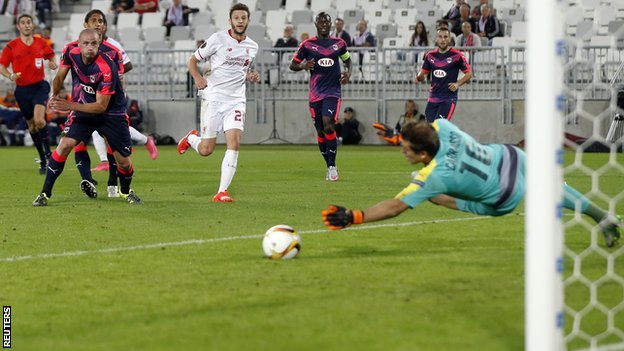 As always, Philippe Coutinho carried and produced most of the responsibility, play and chances, but could not compete on his own against a much better French side in the first half, Diego Rolan and Henri Saivet both coming close but not challenging Red keeper Simon Mignolet enough.
The Reds took over more control after the break, Rossiter and Chirivella, long-time youth team mates, gelling much better together, and Coutinho and fit-again Adam Lallana setting a much better and stronger tone for the visitors.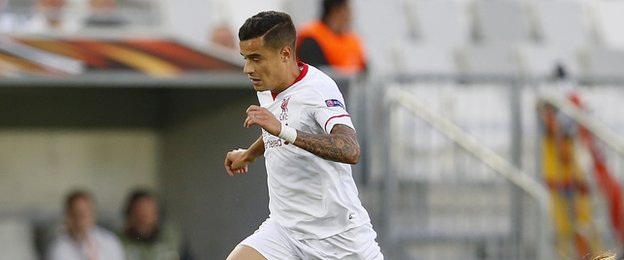 And on 65 minutes, the deadlock was finally broken by the former Saints man, with a stylish nutmeg through Pablo and first-time finish inside the far post.
And substitute Danny Ings looked like he doubled the lead with a similar cheeky effort, but was denied by the outstretched goalkeeper Cedric Carrasso.
But it was not to be. The youthful Reds tired soon and leaked in the closing stages. With nine minutes to go, Jussie had plenty of time and space and fired high into the net to level the score, Liverpool failing to clear their area, not for the first time this season.
It was a faire result in the end, a goal and point each, and good for the youngsters to gain experience and Lallana to find form in his first match back from injury. The main question and pressure is, if and when the Reds can find winning ways and form...
Bordeaux Goals: 1.: 81' Jussie (20).
Liverpool Goals: 1.: 65' Lallana (20).
Bordeaux Team: 16 Carrasso; 29 Poundje, 5 Pallois, 4 Nascimento de Castro, 2 Gajic (26 Guilbert 86'); 11 Chantome (booked 38'); 19 Maurice-Belay, 10 Saivet (17 Poko 76'); 24 Khazri (20 Jussie 69'); 27 Crivelli, 9 Rolan. 4-1-2-1-2
Subs not used: 7 Traore, 12 Thelin, 21 Yambere, 30 Prior.
Liverpool Team: 22 Mignolet; 17 Sakho, 4 Toure (booked 12') (8 Chirivella 28'), 12 Gomez; 18 Moreno, 23 Can, 46 Rossiter (32 Brannagan 80'), 33 Ibe; 10 Coutinho, 20 Lallana; 27 Origi (28 Ings 73'). 3-4-2-1
Subs not used: 11 Firmino, 34 Bogdan, 56 Randall, 58 Cleary.
Bordeaux-Liverpool Match Stats:
Possession: 46%-54%
Attempts: 9-10
On target: 5-6
Corners: 4-8
Fouls: 10-10
Referee: Alberto Undiano Mallenco
Attendance: 35,328
Man of the match: Philippe Coutinho