Sports - Football - Europa League Qualifying Play-Off
Luis Suarez spared Pepe Reina's blushes with a last-gasp equaliser as Liverpool drew 1-1 with Hearts at Anfield which made it 2-1 on aggregate and took the Reds through to the Europa League group stage.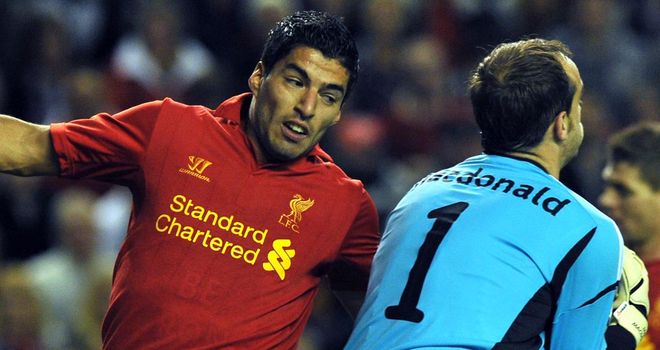 Brendan Rodgers' side dominated the second leg of their qualifying round play-off against the Scottish side. But the home side wasted their chances and were punished for not adding to their 1-0 aggregate lead, an all-too familiar tune for the Reds, Suarez especially.
With just under six minutes left on the clock, Hearts forward David Templeton saw his strike squirm through Reina's grasp, a classic blooper moment for the usually solid and consistent Spanish keeper.
But with extra time looming, Liverpool stepped up a gear and Suarez broke free off a Steven Gerrard free kick, down the left and fired across goal from a tight angle, keeper Jamie MacDonald left wondering how the hell that found its way in.
In the end, Liverpool thoroughly deserved the lead and result, a certain Uruguayan forward making amends for a handful of misses earlier in the game.
The youngsters impressed once again. 18-year-old striker Adam Morgan was handed his first start and looked like he rewarded his manager on 34 when he side-footed one home, only to see the goal disallowed as the ball had gone out before Suarez crossed.
17-year-old substitute Raheem Sterling added some speed and enthusiasm to the game agains when he came on with just under half an hour to go.
All in all, Liverpool looked the brighter and better side, with some fine one-twos and breaks and dominance in possession. But just like against Manchester City on Sunday, they were made to pay for their missed chances and stupid mistakes.
With only hour(s) left in the transfer window and Andy Carroll confirmed out on loan to West Ham, Liverpool neeed to add to their squad force to help and assist Suarez on his quest for Red goals and points,
Meanwhile, John McGlynn's men can go back home with their heads held high. They fought till the end, not letting off and not making anything easy for their opposition. Respect.
FT Liverpool 1:1 Hearts (2:1 on aggregate)
Liverpool Goals: 1: 87:23min Luis Suarez (7).
Hearts Goals: 1: 84:03min David Templeton (7).
Liverpool: 25 Reina; 19 Downing, 37 Skrtel, 23 Carragher, 34 Kelly; 33 Shelvey, 24 Allen, 14 Henderson (29 Borini - 76.); 7 Suarez, 50 Morgan (31 Sterling - 62.), 8 Gerrard. 4-3-3
Subs not used: 1 Jones, 2 Johnson, 3 Enrique, 5 Agger, 16 Coates.
Hearts: 1 MacDonald; 3 Grainger (bkd 86.), 26 Zaliukas, 6 Webster, 4 McGowan; 33 Paterson, 10 Taozuil, 5 Barr (bkd 81.), 18 Novikovas (37 Carrick - 75.); 7 Templeton; 9 Sutton (11 Driver - 66.). 4-4-1-1
Subs not used: 31 Hamilton, 8 Robinson, 15 Holt, 19 McGowan, 29 McHattie.
BBC Stats: Liverpool-Hearts
Attempts: 17-9
On target: 12-4
Corners: 11-1
Free kicks: 9-11
Possession: 57%-43%
Referee: Vladislav Bezboradov