Sports - Football - Premier League - Blackburn 2:3 Liverpool
Liverpool kept Blackburn in the relegation zone thanks to Andy Carroll's injury-time winner after a dramatic encounter which saw the visitors letting a two-goal lead slip away after seeing their replacement goalkeeper Alexander Doni sent off, one penalty saved by sub-keeper Brad Jones and another spot-kick conceded and put past the Australian keeper.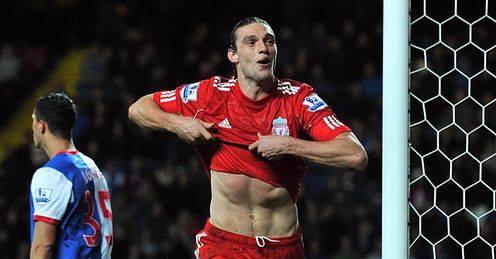 This fixture was Roy Hodgson's last match last season after the Reds lost 3-1 to the Rovers. Steve Kean's men could not have come into the match more confident having secured more points, scored more goals and won more league matches than the Reds in 2012.
Blackburn's home record looked encouraging with ten points accumulated from their last six matches played, while Liverpool arrived at Ewood Park off the back of four away defeats in a row, having lost six in the last eight Premier League games, and without main keeper Pepe Reina after he saw red against Newcastle for headbutting James Perch.
Last but definitely not least, Kenny Dalglish's men have the Merseyside FA Cup semi-final showdown next on the card.
The only encouragement Liverpool could take before the match was that they have won more games away from home this season than they have at Anfield.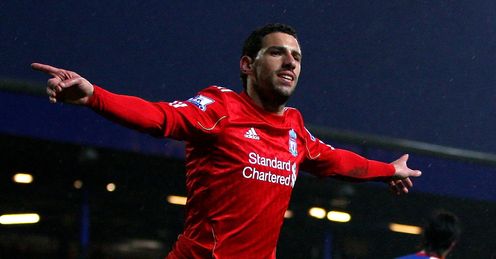 So the visitors took command of the game early on when 12 minutes into the game when Craig Bellamy picked up Martin Skrtel's extraordinarily placed clearance. The Welshamn then produced a fine cross himself from the right which was netted by Maxi Rodriguez in the box, just outside the goal line. It was a great counter attack after Blackburn's free kick was eventually cleared from the Liverpool box.
Hardly 90 seconds laters and another great counter attack saw Jonjo Shelvey's shot saved by Paul Robinson, the rebound shot by Carroll blocked by Scott Dann, before Maxi was on the right spot at the right time again to net that rebound which made it two goals in three minutes for the Argentine.
The Reds could not have wished for a better start, but the twist soon followed.
Doni was distraught when halfway through the first half, he saw a straight red card after brining down David Hoilett which will see the Brasilian goalkeeper miss the FA Cup semi-final against local rivals Everton. He went for the ball but caught the Blackburn forward a fraction late, so the referee had no other choice. Cruel but that is the rule.
Ayegbeni Yakubu took a soft penalty kick, a poor take and easy stop for the third-choice-sub-keeper Jones. But the Nigerian striker soon made up for that miss. Ten minutes later, no one picked him up in the box when he headed in David Dunn's free-kick to get one back to make it 2-1, Jones helpess.
The game continued at high pace, end-to-end stuff, the fans and players only able to gasp a couple of breaths at half time.
On the hour mark, Jones looked all over the place and took too much time with the ball when Yakubu approached him and was pushed down, winning a second penalty for the home sides.
The Reds could utter a sigh of relief when the goalkeeper was only cautioned with a yellow, the referee believing the ball was out of Yakubu's reach, so it was not a goalscoring opportunity.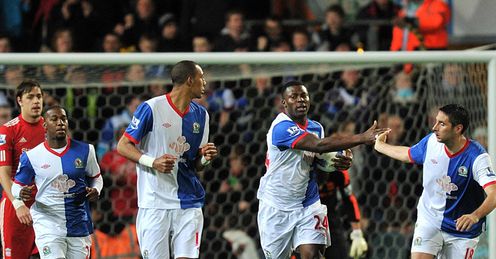 The striker netted this spot-kick though to make it all level at 2-2 and heat up the last 30 minutes - as if the game was not feisty enough already!
Both sides fought on, missed opportunities to grab a winner and it looked like the game was going to end in a stalemate - before injury time.
Liverpool saw their corner cleared, Sebastian Coates followed with a long hoof forward which found Daniel Agger, whose header found Carroll in the box, who made no mistake this time and headed the ball into the back of the net to give the visitors an injury-time lead and winner.
The celebrations showed how much this meant to the under-fire striker, his team mates and fans, especially before their FA Cup clash against the blue side of Liverpool at Wembley on Saturday!
Blackburn: Robinson; Orr

(booked 29)

, Grant Hanley

(booked 90)

, Dann, Martin Olsson; Formica

(booked 65)

(Rochina 73), Nzonzi, Dunn (Lowe 75), Marcus Olsson; Hoilett

(booked 62)

, Yakubu (scored 35:53 & 60:53).
Subs not used: Kean, Givet, Goodwillie, Petrovic, Pedersen.
Liverpool: Doni

(sent off 25)

; Flanagan

(booked 12)

(Jones 26)

(booked 61)

, Coates, Skrtel, Johnson (Agger 53); Maxi (scored 12:38 & 15:10)

(booked 46)

(Jose Enrique 78), Henderson

(booked 86)

, Spearing, Bellamy

(booked 71)

; Shelvey, Carroll (scored 90:41).
Subs not used: Aurelio, Suarez, Kuyt, Carragher.
1st & 2nd half stats:
Blackburn-Liverpool:
Attempts: 5-4 & 7-5
On target: 3-3 & 4-2
Offsides: 0-2 & 2-1
Corners: 0-0 & 4-4
Free kicks: 7-5 & 6-8
Possession: 53%-47% (35), 52%-48% (BBC HT), 53%-47% (Sky HT), 51.2%-48.8% (Sky 2nd half), 52%-48% (BBC FT), 52.1%-47.9% (Sky FT), 50%-50% (Sky FT)
Sky Stats:
Blackburn-Liverpool:
Passing Success: 76.5%-77.1%
Tackles/Success: 14/78.6%-15/60%
Territorial Advantage: 56.3%-43.7%
Action Areas: Blackburn 27%-45%-28% Liverpool
Referee: Anthony Taylor (Cheshire)
Man of the match: Ayegbeni Yakubu