Sports - Football - Premier League - Picks of the Week
Plenty of action and controversy this week as the referees' decisions are under the microscope and hefty criticism once again, after overseeing 23 goals, two penalties (which should have been three), 32 bookings and three sendings off (which should have been four):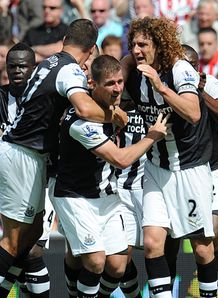 Top game: The Tyneside derby had a little bit of everything. Sunderland and Newcastle head-to-head in competitive spirit, showing the good and ugly side of the game, it was certainly not pretty but feisty, the fans definitely got what they paid for.
Top team: QPR made a good bounce back against Everton after their opening day 4-0 thrashing against Bolton. Their 1-0 win at Goodison Park was an amazing result, especially regarding the circumstances after their team was hit by a virus on top of everything else.
Top player: Manchester City's Edin Dzeko was on fire, he looked a totally different player in his side's 3-2 win at the Reebok Stadium. With him on form and Samir Nasri finally signed, the likes of out-of-favour Carlos Tevez and Craig Bellamy will not be missed much if &and when they finally go.
Top goal: Gabriel Agbonlahor's opener for Aston Villa in their 3-1 win against Blackburn was a supreme take. After good buildup with Darren Bent, the number 11 striker cut one way, then the other, fooled everyone to float and curl the ball past Paul Robinson. Brilliant.
Top news: Champions League group draw, Europa League group draw, only days left for the transfer window to produce a couple more suprises and uproars...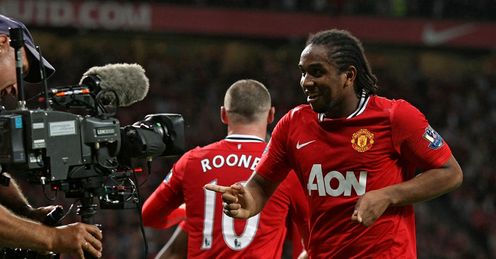 Flop game: I thought Tottenham's trip to Old Trafford would be a bit more of a competition. It was a good match in the first half, but in the second half it was all United, Spurs nowhere to be seen, making no real competition of it, letting United dance all over them. No discredit to United, but it was a boring shame.
Flop team: Arsenal looked like a nervous bunch of nobodies, showing lack of discipline, defensive gaps and leaks everywhere, making it an easy 2-0 win for Liverpool at the Emirates eventhough the visitors were not at their best either. Even Sunday League football looks more competitive and professional then these dragging Gunners.
Flop player: Emmanuel Frimpong's tackle on Liverpool's Lucas Leiva and his consequential sending off was unnecessary and irresponsible. It was one of the rare occasions where the ref got the decision spot-on though. Otherwise, the refs have not been on top of the game, especially Howard Webb at the Stadium of Light, after not giving Sebastian Larsson's handball which stopped Joey Barton's goalbound shot. The linesman disappointed Webb and left Barton outraged, makes a change, then. Why the video replays cannot be used is still a myth to me!
Flop goal: It has been a good week(end) for goalkeepers, the only flop goals were missed penalties and/or good saves! Although, Aaron Ramsey will not feel so lucky with the own goal he conceded against Liverpool...
Flop news: Kenwright blaming the bank for Everton's misery and lack of transfer activity; if you cannot afford it, why keep it?! Does nobody else want it or are you asking for too much, maybe?
My predictions - Actual results
Sunderland 1:1 Newcastle - 0:1
Arsenal 1:1 Liverpool - 0:2
Aston Villa 2:1 Blackburn - 3:1
Chelsea 4:1 West Brom - 2:1
Bolton 2:3 Man City - 2:3
Man Utd 4:2 Tottenham - 3:0