Sports - Football - Premier League - Picks of the Weekend
This weekend was the grand finale weekend of the season and it was the first time ever the title was decided on the last day, in the last match/half/minute/second of the season! After 1,066 goals were scored in total in the Premier League this season, Manchester City ended up top scorer and title winner. But it was not just Manchester that was sweating, screaming, crying, laughing, dancing. The relegation battle, Champions League spot(s) and a hell lot of honour were still left to play for:
Top game: The title deciders at the Stadium of Light and Etihad stadium had EVERYTHING! All the thrills, spills, cheers, tears and drama the game and sport can bring! Manchester United and Wayne Rooney could have bagged 4/5/6/7 goals against Sunderland but in the end it didn't matter. City had fought back late and won the game against relegation-battlers QPR and the title with two goals in the last three minutes of time added on.
United did not know where they were at after their full-time whistle had gone. The suspense was like there to grasp, close to edible in the air. Sergio Aguero will never forbet the moment he scored and won the title for City, their first after 44 years, 22 managers, five relegations, five promotions and right out of their local rivals' laps! Un-be-lievable climax to and unforgettable season! Martin Tyler's and Guy Mowbray's loss of voice control as well as the fans' and team's reactions, faces and body language, covered and summarised that moment and the whole occasion brilliantly!!!
Top team: City ended up on top in the end and were rewarded and celebrated for not giving up the game, match and title. It is not over until the final whistle! United know that the best! Now City know it better! But the juicier next season will be, United's fight-back! As Sir Alex Ferguson said with a smile on his face, he is not going anywhere. And hats off to him, respect to Fergie for congratulating City and saying they deserve the title as the league is the long haul and not just won by accident or some good fortune (after having a dig at the fact that five minutes were added on for City to come back. Sir Alex obviously did not see or watch all highlights and action of the match at the Etihad, with the whole Joey Barton malarkey... More an that below...).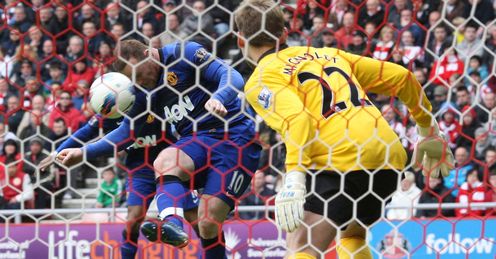 Top player: Rooney could have scored a hat-trick with all the chances he missed and saw saved. Sunderland goalkeeper Simon Mignolet was on top of his game and did brilliantly to bounce back onto his feet after stopping Paul Scholes' shot to also deny none other than Ryan Giggs parrying the latter's shot over the crossbar. Brad Friedel also showed he still has what it takes for Tottenham against Fulham, his terrific stop against Moussa Dembele in the first half proving his awareness and actions/reactions are still up to speed.
Top goal: AGUERRROOOOOOOOOOO!!! Need I say more? More? More? Wigan's third and Emmerson Boyce's second of the match against Wolves at the DW Stadium was outstanding! With a wonderful right-foot swerving volley from the edge of the box, the Carribean defender smashed in Hugo Rodallega's header into the back of the net to make it three goals and three points for the Latics, ending their season on a high at home.
Top news: New England manager Roy Hodgson has announced the full 23-man England squad for Euro 2012, leaving out Rio Ferdinand and naming Steven Gerrard as the England captain. Full England Squad for Euro 2012
Flop game and team: Swansea's home win summed up Liverpool's season. With chances galore, in an otherwise mediocre game, the Reds ended up pointless, miserable and frustrated. This season in 11th place, seven points clear of the relegation zone, it has been Swansea's best and highest finish in 30 years. In 8th place, 37 points behind the champions, this has been Liverpool's worst finish in nearly 50 years! Carling Cup win aside, King Kenny had a lot of soal- and fault-searching, explaining and changing to do in order to keep his crown and throne at Anfield. And as we all know since yesterday, he has failed in doing so and succumbed to the Amercian owners and their demands. This may be an understandable decision and action after this season, but that does not mean it is the right thing to do to make things better in the long run. I just wonder how John Henry and Co will come up with anything and anyone more successful and profiting LONG TERM if they make cuts and changes every year! It took even Sir Alex four years to win his first trophy with United (the FA Cup 1989-90) and seven years for the first league title (1992-93)! It shows, time and patience is of virtue and essence for success and with that comes all the money and profit the owners are looking for and not vice versa. But as long as there are teams like Chelsea and City, I guess owners like Henry will always plead their cases on those examples (and not the others, i.e. Leeds, Newcastle, Blackburn, ...). Only time will tell what all this will mean for Liverpool... I am not too optimistic though! :-(
Flop player: Barton, what were you thinking?! First you elbow Carlos Tevez. Then, whilst arguing your case with the referee and after handing over your CAPTAIN'S ARMBAND, you follow on to your idiotic act with an even more moronic act by kicking into the back of Aguero. I don't know how you can explain your way out of this one!!! = LOOOOOOOONG ban will hopefully follow! Shame on you! DISGRACE!
Flop goal: Marton Fulop had an absolute nightmare against Arsenal! In his league debut for West Brom, the Hungarian goalkeeper first produced a terrible error, letting Yossi Benayoun pass him and score with ease after failing to claim the ball in his own box. Then he punched the ball back to Laurent Koscielny and into the back of his own net. After a fine fight-back by West Brom, giving their England-bound manager Hodgson a good send-off, Fulop flopped and held his head in shame after throwing these three points out the window and into the back of the net with the ball(s) and goal(s) he gave away.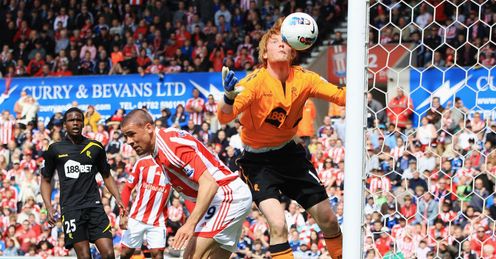 And I don't know how both goals for Stoke against Bolton were given. The first was a fowl on goalkeeper Adam Bogdan with Jon Walters tumbling all over him and the ball over the line with him. The second was a very soft penalty with Peter Crouch going down with hardly any contact made with Bogdan. The game ended up 2-2 and the Wanderers religated. Heart-break after everything that has happened to Bolton this season and especially unfair after their brilliant comebacks and fightbacks of late and it looked like they had this match in the bag too. QPR are very lucky!
Flop news: The first boss on the end-of-the-season hanger was Aston Villa's Alex McLeish after only 11 months in the job. Kenny Dalglish followed soon after with only four months longer under his belt this time round. The big question is, who is next? Betting odds
My predictions - Actual results
Chelsea 2:1 Blackburn - 2:1
Everton 2:0 Newcastle - 3:1
Man City 4:0 QPR - 3:2
Man City are champions
Norwich City 2:2 Aston Villa - 2:0
Stoke City 1:2 Bolton - 2:2
Bolton are relegated
S
underland 1:2 Man United - 0:1
Swansea City 0:2 Liverpool - 1:0
Tottenham 3:0 Fulham - 2:0
West Brom 1:2 Arsenal - 2:3
Wigan 1:1 Wolves - 3:2