Sports - Football - Premier League - Arsenal 2:0 Liverpool
Arsenal extended their lead at the top of the Premier League table to five points after beating Liverpool comprehensively and impressively 2-0 at the Emirates.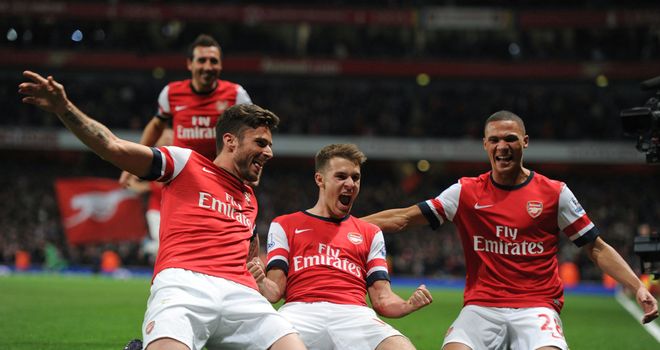 The Gunners took the lead after 19 minutes thanks to Santiago Cazorla who recovered and reacted the quickest and superbly netting the rebound with a fine half-volley after his initial header had come off the post.
Aaron Ramsey doubled the score just before the hour mark with a stunning smacker of a strike from outside the box, his tenth goal of the season.
The Reds did have the ball in the back of the net halfway through the first half after Luis Suarez took a quick free kick, given against Bacary Sagna for his push on the Uruguayan, which found Daniel Sturridge who crossed for Jordan Henderson to tap it in - only for referee Martin Atkinson to pull play back and book the Arsenal defender.
Brendan Rodgers' changes in the second half did improve the visitors' play, possession and attack, but the league leaders stayed in control thanks to a solid and dominant midfield, rewarded and capped off by the outstanding strike from Ramsey.
Suarez hit the post late on and Sturridge saw Wojciech Szczesny's clearance bounce off him, but straight back into the goalkeeper's gloves. It was just not their day.
Arsene Wenger can be more than happy after seeing his side take the lead in nine of their last ten fixtures and record 25 of the last available 27 points, the best record in the Premier League.
Another interesting stat/note: The Gunners are the only team to score in each of their league matches this season, the only other in the top four divisions is League One leaders Leyton Orient!
Liverpool meanwhile, will be relieved by Chelsea's 2-0 slip-up at Newcastle and draws for Southampton, Tottenham and Everton, which keeps them in third place.
Arsenal 2-0 Liverpool
Arsenal Goals; 1.: 18:32min Santiago Cazorla (19), 2.: 58:36min Aaron Ramsey (16).
Arsenal Team: 1 Szczesny: 28 Gibbs (5 Vermaelen -78.), 6 Koscielny, 4 Mertesacker, 3 Sagna (booked 26.); 8 Arteta, 16 Ramsey ; 19 Cazorla (25 Jenkinson - 84., booked 90.), 11 Özil, 7 Rosicky (17 Monreal - 72.); 12 Giroud. 4-2-3-1
Subs not used: 21 Fabianski, 23 Bendtner, 37 Akpom, 45 Haydon.
Liverpool Team: 22 Mignolet; 17 Sakho, 37 Skrtel, 4 Toure; 21 Lucas; 20 Cissokho (booked 28.) (10 Coutinho - 45.), 14 Henderson, 8 Gerrard, 38 Flanagan (12 Moses - 68.); 7 Suarez, 15 Sturridge. 3-1-4-2
Subs not used: 1 Jones, 5 Agger, 24 Allen, 31 Sterling, 34 Kelly.
Opta Match Stats: Arsenal-Liverpool
(Attack)
Shots: 12-12
On target: 7-4
Blocked: 1-2
From outside the box: 3-4
From inside the box: 9-8
Shot accuracy: 63.6%-40%
(General Play)
Possession: 54.3%-45.7%
Duels won: 52.1%-47.9%
Aerial duels won: 45.5%-54.5%
Interceptions: 13-17
Offsides: 1-4
Corners: 3-5
(Distribution)
Total passes: 612-511
Long passes: 6%-7.4%
Passing accuracy: 85%-84.5%
Passing accuracy opp. half: 79.9%-76.6%
Total crosses: 14-21
Successful crosses: 7.1%-28.6%
(Defence & Discipline)
Tackles: 31-28
Tackles won: 83.9%-78.6%
Clearances: 17-26
Fouls conceded: 11-7
Yellow cards: 2-1
Red cards: 0-0
Referee: Martin Atkinson
Attendance: 60,042
Man of the match: Aaron Ramsey