Sports - Football - Premier League - Liverpool 0:2 West Brom
West Brom snatched a remarkable win with two late goals at Anfield ending their sequence of six games without a win and leaving Liverpool and their chances and hopes of Champions League qualification reeling.
The result means Brendan Rodgers' men are still to beat a team currently in the top half of the Premier League table this season.
The visitors, managed by former Reds assistant boss Steve Clarke, kept the Reds at bay thanks to a top-notch performance by their keeper Ben Foster.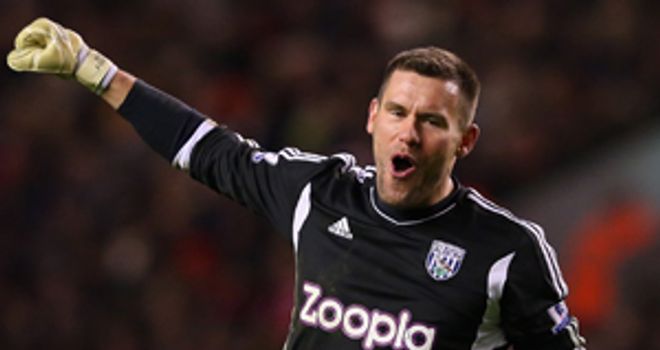 The former England keeper was on form and did his job, not last when he denied Steven Gerrard from the spot after Luis Suarez had gone down typically over-dramatic under Jonas Olsson's challenge.
This save hosts' 19th attempt on goal with Suarez, Gerrard, Stewart Downing and substitute Fabio Borini all denied.
Jonjo Shelvey, in place of injured striker Daniel Sturridge, had the ball in the net but saw his effort correctly disallowed for offside earlier on in the game before Steven Reid almost scored an own goal following Shelvey's cross.
But after all the pressure, it was the visitors who broke the deadlock thanks to Gareth McAuley heading in Chris Brunt's corner completely unmarked with just under ten minutes to go.
And substitute Romelu Lukaku heaped more misery onto Liverpool, breaking forward and past Daniel Agger, shooting the second goal and winner past Pepe Reina bang on 90 minutes.
This win takes West Brom up to eighth, one point ahead of the Reds in ninth, who will feel more than frustrated!
No discrediting West Brom, but this game was nearly comical! The home side had so many chances and could and should have been a couple of goals ahead and settled the game by half time!
West Brom Goals: 1.: 80:16 min Gareth Mc Auley (23); 2.: 90:00 min Romelu Lukaku (20).
Liverpool: 25 Reina; 3 Jose Enrique, 5 Agger, 23 Carragher, 2 Johnson; 8 Gerrard, 21 Lucas; 14 Henderson (31 Sterling - 60.), 33 Shelvey (29 Borini - 60.), 19 Downing (10 Coutinho - 78.); 7 Suarez (booked 94.). 4-2-3-1
Subs not used: 1 Jones, 24 Allen, 37 Skrtel, 47 Wisdom.
West Brom: 1 Foster; 6 Ridgewell (bkd 69.), 3 Olsson, 23 McAuley, 2 Reid (bkd 42.)Mulumbu, 5 Yacob; 11 Brunt (bkd 73.), 7 Morrison 7(bkd 2.), 17 Dorrans (20 Lukaku - 74.); 9 Long (32 Fortune - 86.). 4-2-3-1
Subs not used: 13 Myhill, 8 Rosenberg, 28 Jones, 30 Tamas, 14 Thomas.
Sky Stats: Liverpool-West Brom
Attempts: 25-5
On target: 7-3
Offsides: 4-1
Corners: 13-5
Free kicks: 11-10
Possession: 58.5%-41.5%
Tackles/Success: 19-24/63.2%-79.2%
Passes/Success: 529-377/81.7%-75.3%
Crosses/Success: 31-11/16.1%-18.2%
Referee: Jonathan Moss
Man of the match: Ben Foster