Sports - Football - Premier League - Man United 2:1 Liverpool
Manchester United held on to their 2-1 lead against bitter rivals Liverpool at Old Trafford, the win keeping Sir Alex Ferguson's men ten points clear of City at the top of the Premier League table.
Liverpool showed much more spirit in the second half after a disappointing start to the game. Robin van Persie put the home side ahead comfortably after 19 minutes and could have added another goal to his United account before half time but slashed the chance high.

The visitors created no real threat, lacking in the final third and looking too careful at times, leaving United in total control.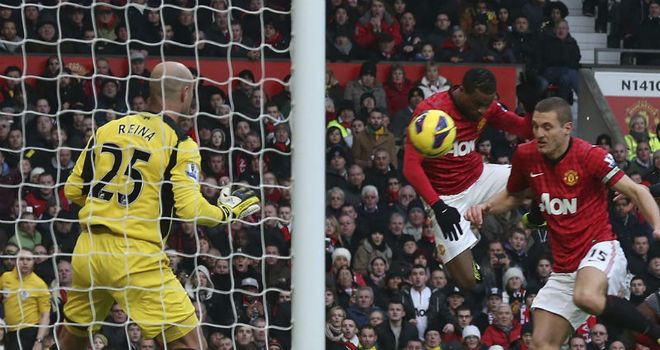 The game looked all over when Patrice Evra's header off RVP's free kick deflected in off Nemanja Vidic thanks to some sloppy defending to make it 2-0 early on in the second half.

But Brendan Rodgers' changes soon payed off when a couple of minutes later Steven Gerrard saw his shot saved by David De Gea for Daniel Sturridge to net the rebound, scoring his first Premier League goal on his league debut for the Merseysiders to start the fight back for Liverpool at 2-1.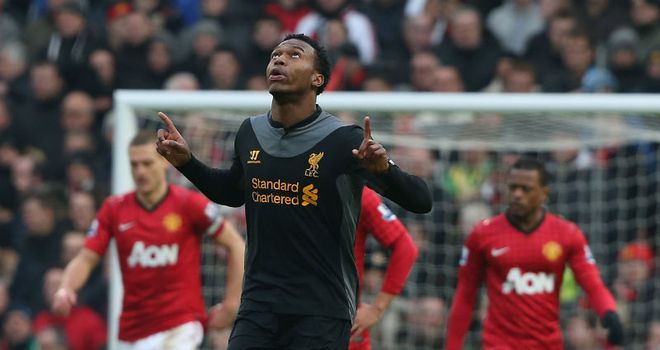 Sturridge and Luis Suarez created much more of a threat together with some fine one-twos and close shaves, the prior hitting one chance into the side-netting, the latter heading another into De Gea's gloves.

This was the seventh defeat of the season for Liverpool and saw them stay in eighth place, two points behind West Brom in seventh and nine points behind Tottenham in fourth, the last Champions League qualification spot.
United will be chuffed to bits after doing the double over their rivals and staying way ahead of their local rivals in the process too. But just like after the reverse fixture defeat, the Reds can take a lot from the game, no points, but a lot of heart and spirit (in the second half) and with it hope. Hope that the January transfer window can back them up and finally solidify their fine interplays and displays with more players, especially in the final third, and get them more goals, results and points.
Man United Goals: 1.: 18:16 min RVP (20), 2.: 53:36 min Nemanja Vidic (15).
Liverpool Goal: 1.: 56:50 min Daniel Sturridge (15).
Man United: 1 De Gea; 3 Evra (booked 73), 15 Vidic (12 Smalling 79), 5 Ferdinand, 2 Da Silva; 26 Kagawa (4 Jones 77), 23 Cleverley, 16 Carrick, 18 Young (7 Valencia HT); 20 RVP, 19 Welbeck. 4-4-2
Subs not used: 40 Amos, 8 Anderson, 11 Giggs, 14 Hernandez.
LFC: 25 Reina; 2 Johnson (booked 76), 5 Agger (booked 94), 37 Skrtel (booked 53), 47 Wisdom; 21 Lucas (booked 45+4, 15 Sturridge HT), 24 Allen (14 Henderson 80), 8 Gerrard; 31 Sterling (29 Borini 62); 7 Suarez, 19 Downing. 4-3-3
Subs not used: 1 Jones, 23 Carragher, 33 Shelvey, 49 Robinson.
1st & 2nd half Stats: UTD-LFC
Attempts: 5-1 & 7-8
On target: 2-0 & 4-3
Offsides: 0-0 & 1-1
Corners: 1-1 & 2-0
Free kicks: 6-7 & 11-7
Possession:
57%-43% (15.min)
52.4%-47.6% (HT)
48%- 52% (2nd half - 69.min)
30%-70% (82.-87.min)
46%-54% (FT)
Action Areas:
UTD 10%-65%-25% LFC (27.min)
Passes: 404-487
Pass Success:
86%-81.74% (HT)
82%-85.01% (FT)
Shot Accuracy: 50%-30%
Crosses: 15-11
Cross Accuracy: 26.7%-0%
Tackles: 25-31
Tackles won: 60%-83.9%
Referee: Howard Webb
MOTM: Danny Welbeck